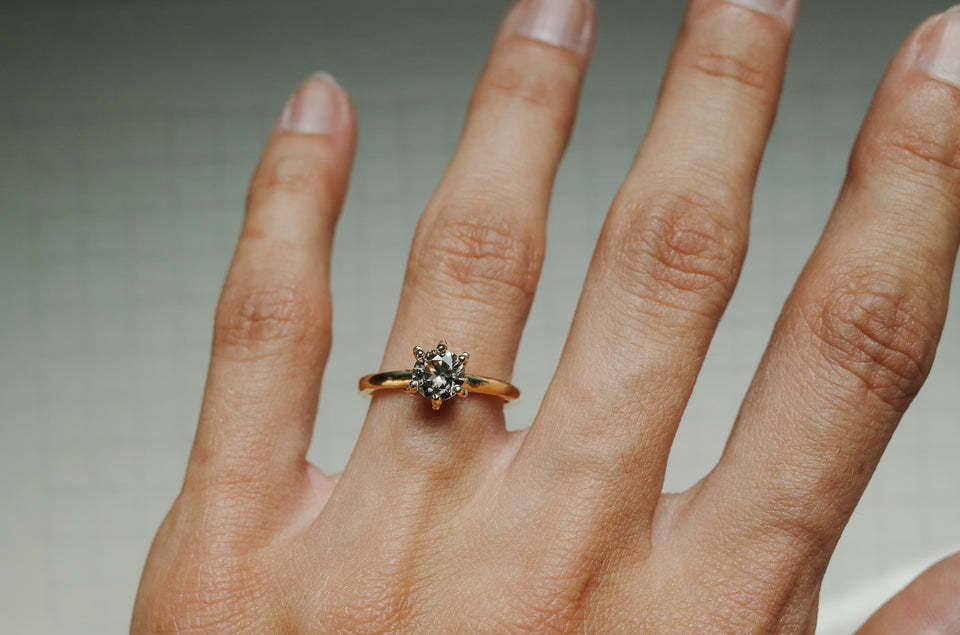 Dotted Crown Solitaire
by We Are Arrow
This stunning ring is perfect for someone looking for a unique and alternative engagement ring. An absolutely gorgeous round gemstone of your choice is held by six dotted prongs, for a beautifully textured crown-like setting. Finished with round claws and polished to a shine. Sparkling in the light, this ring is sure to be noticed!
Your solitaire options are Zircon, Sapphire, or Diamond. Zircon (not to be confused with cubic zirconia!) is the oldest known mineral on earth and shows excellent fire -- we stock these beautiful stones in a range of warm blush and cognac tones. Sapphire is rich in colour and we have a variety of gorgeous blues and greens available. Both our Zircons and our Sapphires are ethically sourced from Queensland, Australia.  Diamonds are always a classic and we source high quality, Kimberly Process certified stones so you can feel confident in your purchase.
- Choose from 9, 14, or 18 karat Gold, or Platinum
- Choose 100% recycled gold or platinum or Fairmined Gold
- All rings fully UK Hallmarked
- Choose from Zircon, Sapphire, and Diamond options
- Solitaire is 5mm in diameter
- Band is 1.5mm wide

Please allow 6 to 8 weeks for the delivery of this ring as it will be made especially for you. Contact us if you would like to select your stones personally.
Pictured: Blush Zircon in 18 karat Yellow Gold