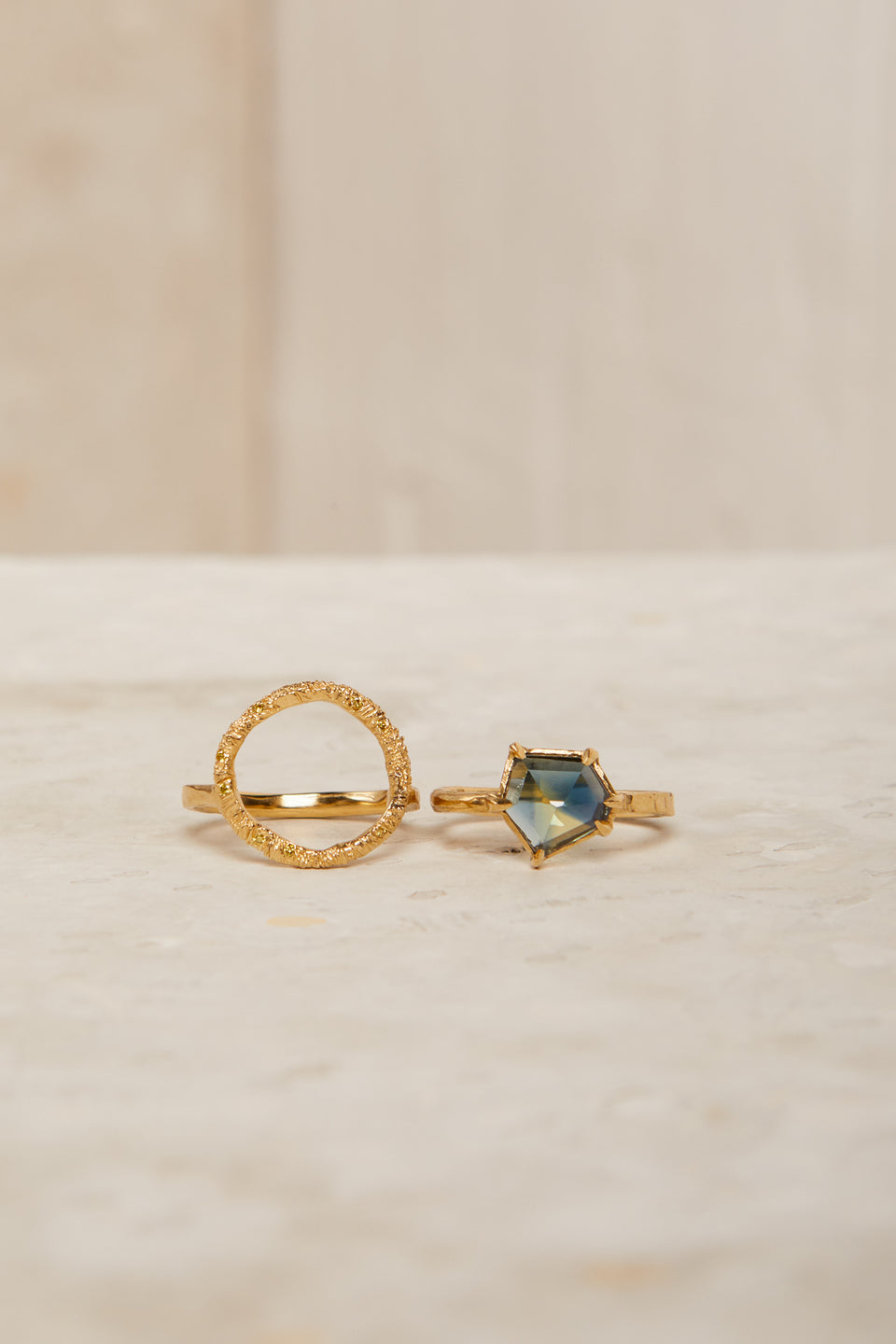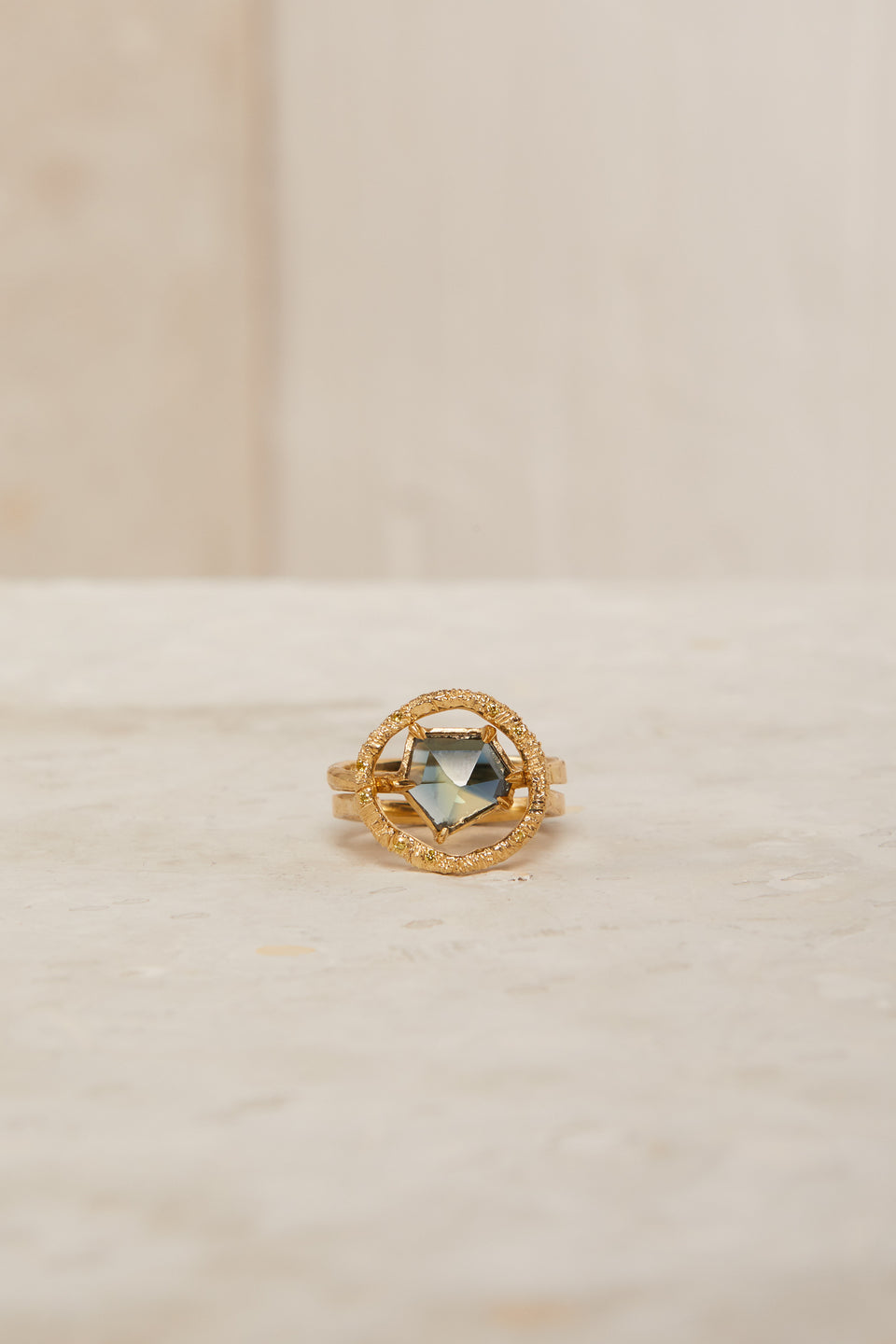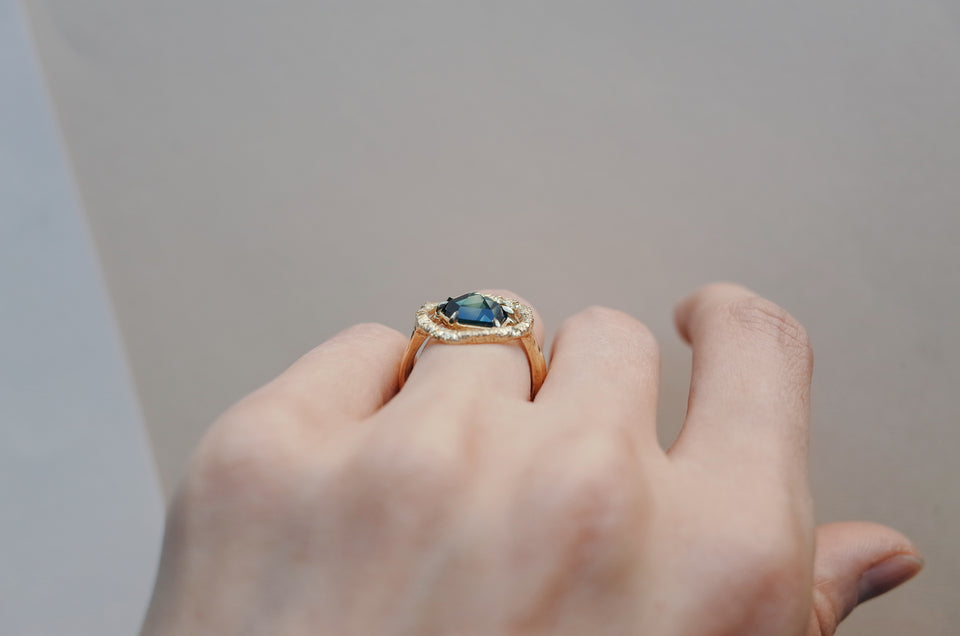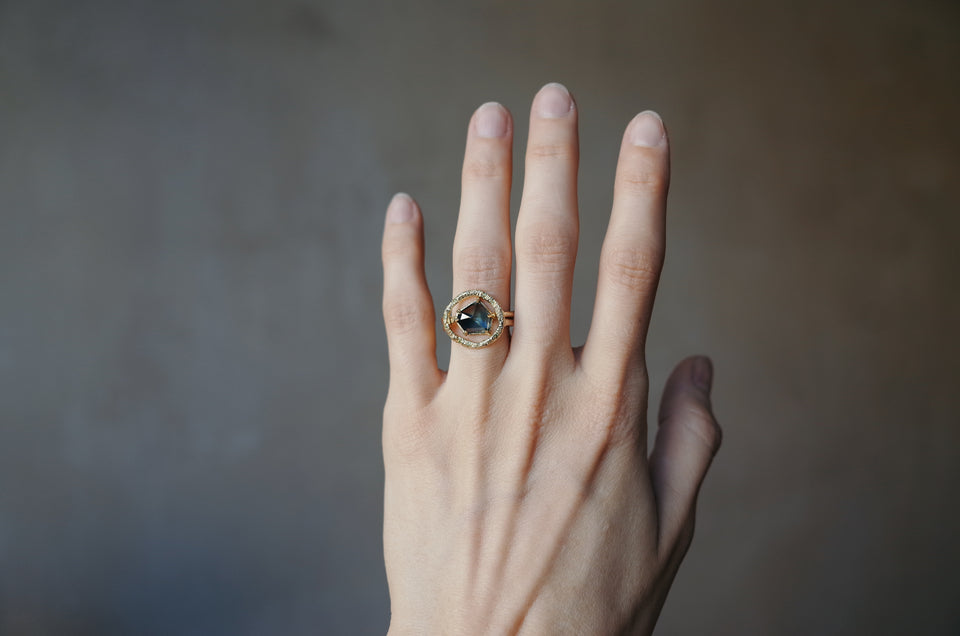 Sapphire + Diamond Halo Ring Pair
by WeAreArrow
An asymmetrical hexagonal sapphire haloed in gold and yellow diamonds.  A versatile, one of a kind pair that work beautifully together or individually.
The central Sapphire solitaire consists of a smoothly squared band that narrows slightly toward the centre stone with a subtle dripped texture. Six tiny talon prongs, one at each corner of the sapphire, hold it in place. The gem itself is a beauty, like looking at an island in the sea from above through a prism. The outer edges contain lovely ocean blues that fade to a hint of sand yellow at the centre. 
A separate ring forms a halo of textured gold that flows organically around the geometric Sapphire ring, with matching bands that nestle together perfectly.  The wavy halo has delicate carving throughout like radiating sunbeams, and is speckled with vibrant Yellow Diamonds for a subtle energetic glow. 
The sapphire is ethically sourced from Queensland, Australia, and is unheated and untreated. Both rings are solid Fairmined 18 karat Yellow Gold sourced from Iqira, Columbia. Our diamonds are ethical and Kimberley Process certified.
- Solid Fairmined 18 karat Yellow Gold
- Fully UK Hallmarked
- Size M
- Sapphire solitaire is 8.5 x 7.5mm and 2.09 carats
- Mount is 11.5 x 9.5mm at the tallest
- Band is 2.5mm tapering to 2mm near the mount

- Halo is set with eight 1mm round brilliant cut yellow diamonds
- Halo is 15.5 x 16.5mm at the widest
- Band is 2mm wide

Fairmined is an assurance label that can help you to feel confident in the ethics of your jewellery. The gold is fully traceable to small and artisanal mines in Central and South America that are locally owned and responsibly operated, free of conflict, child labour, and environmental harm. Read more about Fairmined Gold here.  
A truly one of a kind pair, you will receive the ring(s) pictured! Contact us to discuss resizing. Rings are available together or separately.